What's H2ICE?
H2ICE (Hydrogen(H₂) Internal Combustion Engine) is the engine that uses hydrogen as fuel instead of diesel oil and petrol in conventional combustion engines.
The challenge of a hydrogen engine is to achieve stable operation even under the conditions of high combustion rate and high calories.

We have a range of mono/dual-fuel, medium/high-speed engines, each with advantages and disadvantages.
We will provide the best solution to your needs.
Benefits of dual fuel
Why Dual Fuel?
01

When continuous operation is required

Even in areas without hydrogen supply or in the event of abnormal failures in the dual fuel system or hydrogen supply, we can continue operation by automatically switching to full diesel back-up.

02

When a long driving time and a long driving range are required

With current technology, we need 2.0㎥ of space to install about 20kg of compressed hydrogen gas (〜35MPa). In other words, hydrogen monofuel and fuel cells have a significant limitation in terms of driving distance and operation time. The use of dual fuel makes it possible to continue running on full diesel backup when hydrogen is no longer available.

It has the most economical installation cost per percentage of GHG reduction. This means that, for the same budget, we expect to achieve maximum greenhouse gas reduction and high economic efficiency
DUAL FUEL ENGINE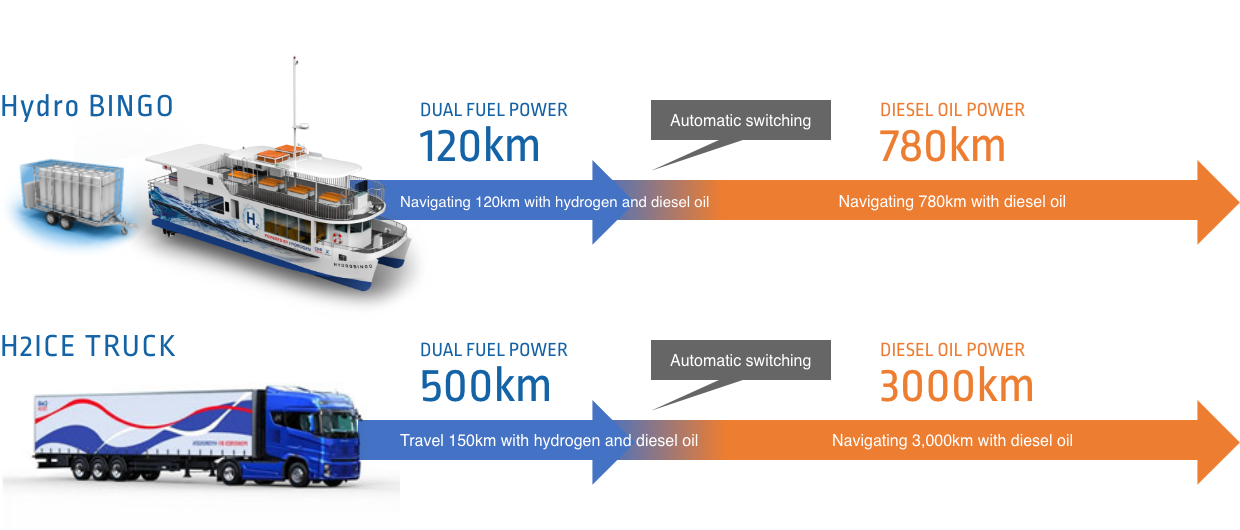 Medium-speed engine model
We have succeeded in developing a medium-speed engine model.
This dual-fuel model can increase cylinder capacity by up to 80% on a calorie basis.
In addition, we will soon release the hydrogen-monofuel model soon.

(The joint development between CMB.TECH and Anglo Belgian Corporation)
BEH2YDRO 6DZD

BEH2YDRO 8DZD

BEH2YDRO 12VDZD

BEH2YDRO 16VDZD
| Product Specification | 6DZD | 8DZD | 12DZD | 16DZD |
| --- | --- | --- | --- | --- |
| Cylinders | 6 inline | 8 inline | 12 V | 16 V |
| Nominal Engine Speed | Max 1,000rpm | Max 1,000rpm | Max 1,000rpm | Max 1,000rpm |
| Power | 1,000 kW | 1,335 kW | 2,000 kW | 2,670 kW |
| Power | 1,353 HP | 1,813 HP | 2,706 HP | 3,626 HP |
| Swept Volume | 95.7ℓ | 127.6ℓ | 191.5ℓ | 255.2ℓ |
| Weight | 10,620 kg | 13,905 kg | 18,000 kg | 21,750 kg |
High-speed engine model
It has been developed primarily for high-speed engines.
A modified dual-fuel model has achieved a cylinder capacity of 40-60%.
The range of output power is 400kW-1000kW.
In addition, a modified gasoline engine model can achieve 100% hydrogen combustion.
The range of output power is less than 50kW.
| Product Specification | HyPenta D13 |
| --- | --- |
| Cylinders | L6 |
| rpm | 2,400 rpm |
| Power | 850 HP |
| Swept vol | 12.78ℓ |
| Dry weight | 1.635 kg |
| Length | 1,447 mm |
| Weight | 1,089 mm |
| Height | 1,053 mm |