Our challenge towards hydrogen-powered tugboats and zero-emission vessels
Our challenge towards hydrogen-powered tugboats and zero-emission vessels
Our challenge towards hydrogen-powered tugboats and 
zero-emission vessels 
ANTWERP, BELGIUM – JAPAN 22nd September 2021 – We would like to announce, JPN H2YDRO, a strategic alliance and investment of CMB, Tsuneishi Facilities&Craft Co., Ltd, and Kambara Kisen Co., Ltd. to develop and build a "tugboat equipped with a hydrogen-powered engine" by 2023.
This project demonstrates the application of hydrogen-powered engines on higher-powered vessels, following the world's first passenger ship equipped with hydrogen-powered dual-fuel engines, "HydroBingo".
In addition, we have started to develop a concrete action plan, including collaboration with stakeholders, to achieve our mid-term vision of developing and demonstrating the operation of a zero-emission coastal vessel within the next five years.
Our action for the development of a tugboat with hydrogen-powered engines
As released, "HydroBINGO" was completed at Tsuneishi Facilities&Craft Co., Ltd in July this year. Utilising accumulated know-how and realising this through its construction, we are confident that our joint venture arrangement will apply to a large hydrogen-powered tugboat, requiring high power and the construction and operation of the vessel.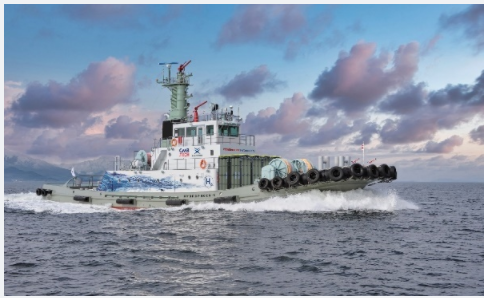 To develop a hydrogen society in Japan, taking gradual decarbonization applied to domestic vessels are our reasonable concern; we emphasise the importance of creating a hydrogen fuel supply system, economic efficiency for ship owners and operators, and handling new fuels, ensuring safety throughout the entire process from ship construction to actual ship operation.
In the development of the hydrogen-powered we will conduct various demonstrations to adopt more effective solutions to our concerns.
In the future, to achieve the goal of building and operating a zero-emission tugboat in coastal shipping over the next five years, we will formulate a concrete plan to form strategies and alliances with stakeholders. We will then move on to the implementation phase.
About us
As a solutions provider, including hydrogen-related technologies and know-how, we are discussing the joint development of new hydrogen-related businesses in various fields, such as the domestic shipping and port industries and the field of offshore wind power generation.
We will use our network and other management resources of CMB and Tsuneishi Group to develop hydrogen business. In this way, we will continue to create customer value and improve our business value.
―Contact Us-
JPN H2YDRO
Chief Operation Officer:  Yu Aonuma
info@jpnh2ydro.com
TEL:+81 84-987-2377