『Hydro BINGO』Awarded the Ship of the Year 2021 "Small Passenger Ship Sector"
『Hydro BINGO』Awarded the Ship of the Year 2021 "Small Passenger Ship Sector"
JPNH2YDRO owning aluminum alloy passenger ship "Hydro BINGO" equipped with hydrogen-dual fuel engines (built by Tsuneishi Facilities & Craft Co., Ltd.) won the  "Small Passenger Ship Sector" of the Ship of the Year 2021 Award and was honored by the Shipbuilding and Marine Engineering Society of Japan on July 22, 2022.
"Hydro BINGO" is the world's first 19 GT commercial passenger ship equipped with hydrogen-dual fuel combustion engines and was built in July last year.
The hydrogen combustion control system reduces CO2 emissions by up to 50%, and the ship can burn by-product hydrogen. The ship's exterior design, which is different from conventional vessels, was also highly evaluated, including equipment that complies with Transportation Accessibility Improvement Law.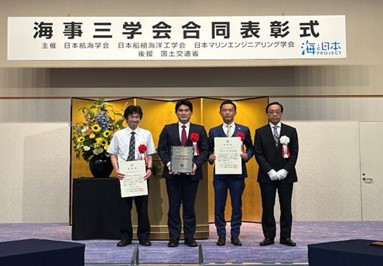 Commemorative photo
(From left to right: Koichi Hirata, Senior Director for Research, National Maritime Research Institute; Jun Kambara, President, Tsuneishi Facilities & Craft;
Yu Aonuma, COO, JPNH2YDRO; Masahiko Fujikubo, President, The Japan Society of Naval Architects and Ocean Engineers)
■Ship Specification
Ship name: Hydro BINGO
L× B × D:19.45m×5.40m×1.75m
Gross Tonnage:19
Main engine: H2 & light oil dual-fuel engine HyPenta D13-1000(441kW×2,300min-1×2 unit)
Speed: Speed max, trial 26.0kt, Speed, service 23.0kt
Ship Type:Passenger Ship
Passengers:80
Crews: 2
Features: Hydrogen tank trailer, Integrated monitoring system
Shipbuilder: Tsuneishi Facilities & Craft Co., Ltd.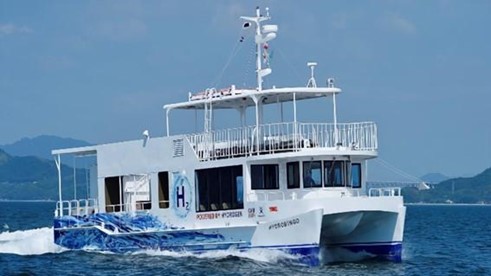 "Hydro BINGO" The world's first 19 GT commercial passenger ship equipped with hydrogen-dual fuel combustion engines
―Contact Us-
JPNH2YDRO
info@jpnh2ydro.com
TEL:+81 -3-6261-3534